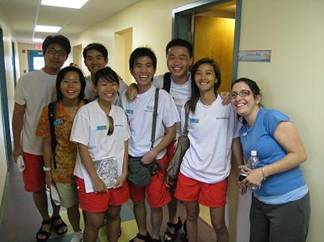 "Awesome!" Nope, I am not Americanized, but this is the exact word that I have to use to describe my work and travel experience.
---
I have always been curious about how different work environment, culture, and people can be in a foreign country. I have always been very independent, but being away from one's parents is a totally different experience and is the best chance to learn to be independent and make decisions for myself. Road trips are something that I yearned for as well. So when Speedwing came down to NTU to give a talk on WAT summer 2007 back in 2006, I knew this was exactly what I wanted for myself. Thus here I am, writing to all, who are considering embarking on this awesome experience which I had the privilege to enjoy.
When I first reached Orlando International Airport, anxiety overwhelmed me. Even though I yearn for a change in environment, I just couldn't imagine that I was actually so far away from a place which I have called home for 23 years. However, transportation from the airport and orientations are provided to facilitate the transitional phases. In addition, there was a processing day, the day whereby we were gathered and briefed on all the necessary documentation that was going to take place upon entering and working in US. That greatly reduced my anxiety and with that I would like to thank CIEE, Speedwing, and Aquatica.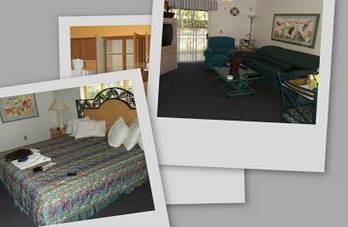 Yes, I mentioned Aquatica. It is the newly-opened water theme park of Seaworld, Aquatica and I worked there as a lifeguard. Every lifeguard has to undergo a swim test to put their endurance and speed in water to test. 2 days of rigorous Red-cross training was then provided, consisting of emergency actions plans and of course CPR training.
However, before one can officially be a lifeguard, we had to undergo On-Job-Training (OJT) to familiarise ourselves with equipment and rides within the park. It wasn't easy, however, through encouragement and cheering for one another, we made it. It was through this swim test that everyone got to know one another better, be it Hougang, Woodlands, Florida or Ukraine that we came from. Nationality and race became insignificant as friendship bonds were formed.
As I had imagined, it was a totally different work experience, especially since I was doing something that I had never done before. I would profess that I was lucky to have the most interesting job of operating rides. "Ready, get set, GOOOO!" I would shout, as the guests went down the T-racer.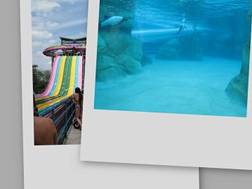 "Awesome! I saw dolphins! Mummy/Daddy, I wanna do it again!" Kids would exclaim with unadulterated joy as they emerge from the dolphin plunge. I was glad that I was around to witness how this new park had brought smiles to the guests, especially the children. Apart from operating rides, I got to go on the rides too. Safeguarding the wave pools and lazy river can get tiring under the hot sun, I too felt like jumping into the water to cool myself down. But as lifeguard, I was responsible for the safety of the guests so professionalism had to come first. Similarly, it was for this very reason we had rotation of positions every 30mins to help us to increase our vigilance. Due to the scale and magnitude of the theme park, it was unlikely that I would be doing the same thing everyday so my job never got boring!
Being a lifeguard also meant that I had to provide world class service to the guests at the same time. From simple interactions such as complaints and hostility from guests to emergencies, I had to keep my cool to talk to them, calming them down and remained as professional as possible in order to maintain the zone coverage of the area I was guarding. All those contributed to my development as a person. I honed up my communication and critical thinking skills through interactions with guests on a daily basis. furthermore, I had colleagues all over the world such as Belgium, Russia, Ukraine, Taiwan, Malaysia, Thailand and not forgetting US, that I managed to converse with in the break room. They were very friendly and soon we found ourselves to be good friends. We taught each other our languages and we often broke into laughter when we fumbled in the languages of one another. I also understood more of their cultures from the various parts of their worlds. It really saddens me when people I know had to turn to programs such as WAT to earn money during their summer breaks because of the widening income divide due to corruption in their respective countries. This made me appreciate my nationality immensely.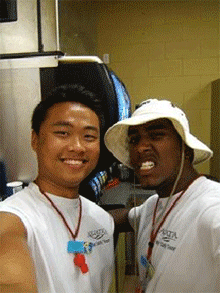 Besides working hard, I never gave up opportunities to have fun. As a Seaworld team member, I got to enter theme parks such as Universal Studios, Island of Adventure, and Busch Gardens for free! I had opportunities to visit other theme parks such as Disney World and water theme parks such as Wet & Wild. These were the places which caused me to develop a craving for theme parks. I had the first roller-coaster ride in my life at Universal Studio: Island of Adventure. It was called The Incredible Hulk. I always thought roller-coasters were too scary for me. It was until then that I found it thrilling and exciting. With that many theme parks around in Florida, I was glad that I went on to try each of the coasters. I also went on a road trip to Miami. The beach was beautiful, with the water a clear blue but to our disappointment, it wasn't crowded with hot babes! Apparently, according to the local, people tend to avoid beaches as summer is a hurricane season in Florida.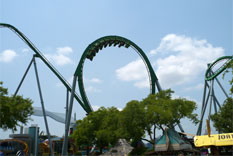 Even though most of us are working hard to save up for our travels, shopping was still simply irresistible for us! How about buying a Polo Ralph top for just USD30 when it costs over S$100 elsewhere? Or a coach wristlet for just USD40 that costs over S$150 originally. The premium and prime outlets in Orlando offer what we needed to wear for the next few years at great discounts! Polo Ralph Lauren, Timberland, Adidas, Nike, Coach, you name it, they have it. Another big spending of mine was the trip to Discovery Cove (DC), Seaworld. I went for the dolphin swim which cost USD150 even at staff price! Even though, it was a short 30mins interaction with "thai-le" (that's the name of the dolphin), it was an experience I could have frivolously anywhere. It was so amazing how well the trainers can communicate with the dolphins, that at certain point, I felt touched. Besides this, I also got to feed the birds at the aviary and swam in man-made coral reefs where giant Manta Ray (Ray family) can be found! On top of that, anything within the DC was free, which included the buffet breakfast and lunch which made my money totally well-spent.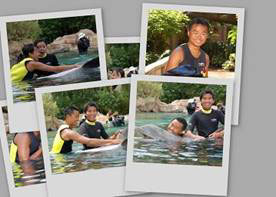 Road trips were pretty interesting for me. Apart from my roommate, the rest of the travelling mates were 8 friends from King Dominion. We met at New York and began our Ocean's 10(our self declared title) adventure to Boston, Las Vegas, Los Angeles, and last San Francisco and lastly to Taipei before coming back to Singapore. Even though the experience during the working period was well over what I can ask for, the touring around the States was probably still the highlight of my trip.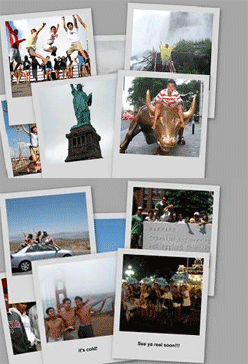 Chinese has a saying, "百闻不如一见" which meant everything that one has heard cannot be compared to seeing it for oneself. This is so true. We visited the Statue of Liberty, Niagara Falls, Empire State Building, Harvard University, LV Casinos, Hover Dam, Grand Canyon Park, Yosemite National Park, Golden Gate Bridge and Fisherman's Wharf, all within 18 days. I may not know all these places before I visited the States, however, I was rendered speechless at the magnificence which stood right before my eyes. Not only the places of interests, but the road trips themselves, the driving; squeezing, sleeping, and playing cards in the car, formed much of the important memories I have which money can never buy.
So now, is anyone prepared for a great hangover from fun, enjoyment and growth? WAT USA 2009 is waiting for you.