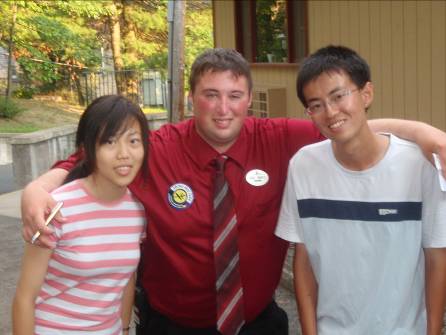 Life is simply a piece of white paper. There's someone painting sunshine or velvet blue sky on it; there's also someone painting thick dark cloud or thundering storm. However, what I've just painted is a rainbow!
---
When I first stood at the front gate of Six Flags—the Great Escape, I felt a sense of de ja vu. I was envisioning the scene that the Great Escape readily embraces my great ambition. Though the theme park was sleeping silently at that point of time, I could still hear the wild scream from the guests and the thrilling noise from the roller coasters. My dream was then soaring up.
Imagination is just the sweet coat of bitterness. I savored what loneliness really tastes like.
I used to live in big cities that are always crowded by people and vehicles. But the place I live, not far from the park, is totally reclusive. It's hidden in a creepy forest. In the first few days, I couldn't sleep with lights off. As long as I am awake, my family and my friends rush into my blank mind. The solicitude is biting my heart little by little.
As time passes on, I get used to the environment. Why should I be scared? What am I scared of? I keep asking me questions like these. Every night, I am accompanied by the silver moon, the shinning stars, the singing bugs, and of course, my roommates. I begin to fear nothing. My heart gets forged in the darkness and I fell I am courageous enough to face any fright, because I defeat the most powerful enemy—myself! I've grown up, from a boy to a man.
My life is fruitful when I am working in the park. I can't help coming up with the words at the back of the volunteers' shirts in Singapore's Escape Theme Park—"fun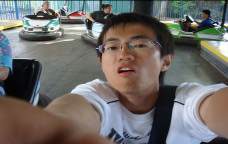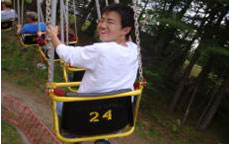 People serve fun people". It's more than true that I've gained tons of fun from my job. I am a kiddy rides operator. Nevertheless, I'm still visited by groups of teenagers. They become exhilarating when they are on the childish ride. Maybe, it's the side effect of riding too much roller coasters. They scream at the top of their voices and shout "Even( my fake name at work), you rock!" "Even, you're the man!" "This is the best ride ever!" Then, I would respond "All right, babies, thank you for riding and have a great escape!"
Frequently, parents would like to ride with their kids. And this is the most embarrassing situation. Nearly every parent will greet you with "what's up man", "how're you doing" or "how was it going". Not knowing a fancy reply, I just smile friendly and silly. On average, parents say "thank you" three times per ride—one time for opening the gate, another for closing restraints, and one more for operating. However, I also meet decent gentlemen who keep saying "thank you" for five or six times. That really "freaks me out". Their graciousness is like sunshine piercing my heart, warming up my whole body, and propelling me to provide the world class service.
The greatest excitement is from serving the kids. They are so cute and innocent that I can't help loving them. Once upon a time, when I was buckling up a 2-year-old boy, he kissed me. It was a wet and sticky kiss with all the snivel and saliva. My day was lit up by that kiss. I kept smiling all day long and couldn't stop showing off in front of my friends. Mostly, I spare no effort to "spice the ride up"—interact with my little guests; mock the sound of their scream; sing ludicrous songs, and give them high-five. At first, I was like an idiot doing these stupid moves. However, they really butter things up, and the beautiful smiling faces from my guests brought happiness to me too. Then I began to realize that happiness is contagious. I will miss all the fun if I fail to help my guests to enjoy themselves. So, you can always hear my spiel in my area "how was it guys?" "you wanna do it again?" "woo-hoo!" "excellent job!"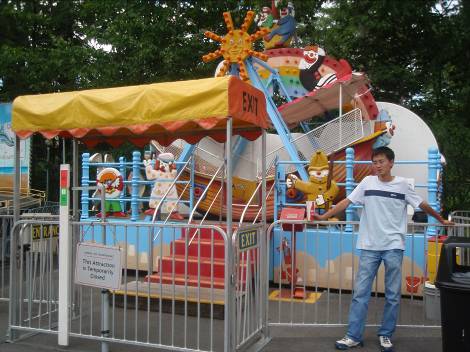 With the money I make from hard work, I get the chance to see the breathtaking nature masterpiece—the Niagara Falls! I was shocked from the bottom of my heart by the splendid view. You even don't bother to use adjectives to describe the beauty. It's self-explanatory. I also immersed myself into the thick culture atmosphere of Boston. Every building there is trying to tell you a period of history. Walking along the freedom trail, I was shown the root of America. The architecture of Boston is quite different from New York, in which you can see the skyscrapers everywhere. Life in New York is always busy and hence substantial. You can easily get lost in the extreme prosperity.
| | | | |
| --- | --- | --- | --- |
| | | | |
| Niagara Falls—a wonder of nature | Lecturing in Harvard University with no audience… | Hurry, take a photo, I'm falling | Male edition of the Statue of Liberty |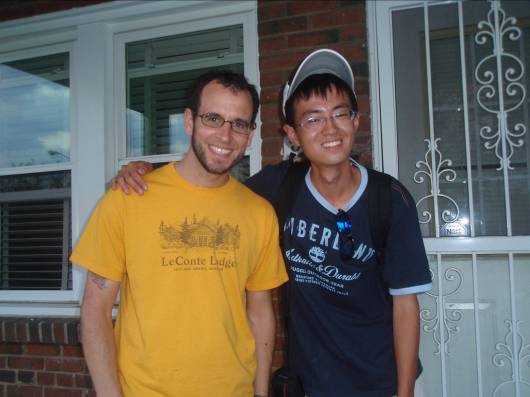 I really appreciate that CIEE provides me with the chance to work and travel in US. Instead of spending a whole summer having summer course or playing games, I made the smartest choice. Not only have I earned a lot of money, but I've changed my philosophy of life. I realize that cracking books is not the only way to make money, and I also acquire a plenty of knowledge and skills that are not taught in textbooks. My perspective is refreshed by communicating with Americans; my scope was widened by traveling around; my friendship with my roommates was cemented by solving problems together. One of the things I am proud of is I can totally survive without the care of my parents. It's me who arranged the whole plan of travel. And I get a lot of benefits though. I learned how to read maps; how to manage money; how to compromise everyone's advice; how to tackle problems. These priceless experiences are my wealth that will help me to get through the difficulties in the future.

I would definitely recommend this program to my schoolmates and my friends. Working with people from Taiwan, Hong Kong, Russia, and Turkey, I learned how to get along with others. As a member of this big family, I shared everyone's happiness and sorrow, laughter and tear. The experience brought by this program is the most intoxicating memory that I will treasure through my whole life.
I still remember the scene when I was about to aboard the plane to come back. My friends all waved and said goodbye to USA. Looking at the beautiful burning sunglow, I smiled "see you later, USA."