The Yellowstone Experience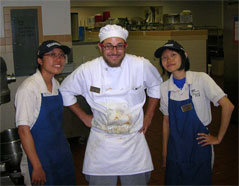 It was an innocent afternoon in the NUS Science cafeteria when I came upon a notice with the heading "Work and Travel USA". I knew at that very moment this was a program I wanted to take part in, because chances to experience USA over a summer do not come by daily. This was to be very different from overseas study exchanges as the absence of schooling would mean less pressure and more time to explore USA. We are the servers!

---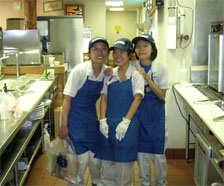 On May 12, 18 of us landed foot in Yellowstone National Park (YNP). Strangers most of us were, a snow storm bonded us together. We stared, curdled and marveled, to welcome the first snow sighting of our lives. It marked the beginning of an exciting summer ahead.
Who dares mess with us?!
Working at the Old Faithful Lodge was eventful. While tourists love for Old Faithful geyser to go off, many of us feared this exact moment, which would bring on a "geyser rush", or customers enough to provide one hour of hectic business. Nonetheless, the physically taxing work brought out team spirit from us. As we scrubbed, lifted and mopped, complaints, gossips and laughter never failed to brighten up the day.
Yet, working at a cafeteria in YNP proved more than just labor and play. It provided us the chance to observe the American culture. Underage drinking and misbehavior under alcoholic influence could be observed among some American youths we were working with, that might reflect an existing social problem in the States. On the good side, some of these teenagers started working as young as 14, an age most Singaporean youngsters were still living off our parents in a sheltered environment. At the age of twenty, some were already holding on to managerial positions. This stark difference in life experiences and attitudes between American and Singaporean teenagers set many of us deliberating the pros and cons of our own upbringing.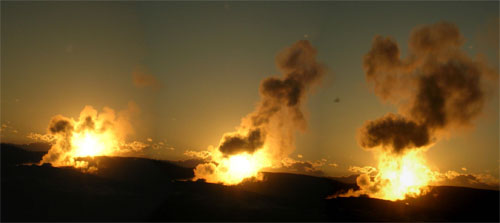 Besides immersing ourselves in cultural differences, living in YNP was incredibly exciting as we feasted on the wonders of natures one after another. Every geyser eruption spoke of the alarming power of nature and every sunset was a miracle to behold as the sky displayed stunning arrays of colors different everyday. Hiking became our common past time as we learned to enjoy huge expanses of forests and the surprises of spotting wildlife like bisons, bears and bald eagles. These experiences truly made me realize the importance of loving and protecting nature, something I never took to heart in Singapore.
| | |
| --- | --- |
| Hiking up the snowy mountains | Whitewater rafting on Gallatin River |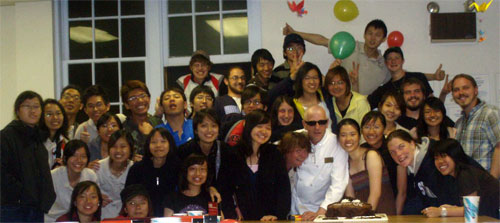 The summer I spent in Yellowstone National Park was the best I ever had. The travelling that followed brought me to many US cities like Seattle, Las Vegas, Los Angeles, San Francisco, San Diego and Alaska, all of which provided eye-opening encounters. Thanks to Work & Travel USA, I took part in snowfights, rafted in whitewaters, rode on horseback across wilderness, flew in a helicopter over canyons and sailed past glaciers among icebergs, all for the first time in my life. I was brought out of my comfort zone to test and stretch my own limits. I learnt the importance of human resource management through real-life experience in an American corporation, while forging friendships that will last a lifetime. To any student hesitating over the decision to participate, Work & Travel USA is an opportunity not to be missed.