Work and Travel – The Beginning
I heard about the Work & travel (WAT) Program from friends who went for it last year and they shared with me their numerous adventures and experiences they enjoyed and how WAT truly was an eye-opening opportunity for anyone who's never lived abroad before. I was convinced! It sounded like an interesting way of travelling – having to earn my own income in the States and use that income to travel rather than having to fork out a big sum of money to travel to U.S. on a holiday. More importantly, I wanted to step out of my comfort zone in Singapore and gain more independence by going to the U.S.
---
I went with four of my friends and the lessons I learnt were invaluable. I learnt to be independent; to wash my own clothes, to control my own expenditure because I did not have additional resources to go to for extra money, to cook myself, and to deal with the many social issues that arose from living in the same accommodation.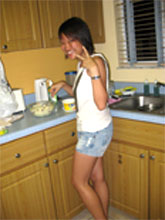 The first month in the States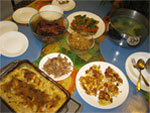 During the first few weeks in the U.S, my friends and I made many international friends and we were having potluck dinners in my room every other night. My apartment door was always open and welcome to anyone who wanted to join us for dinner! On most evenings, we would have a tons of fun during our cookout sessions; having to prepare for a dozen friends that would join us for dinner. It was really fun getting to experiment cooking various dishes, and trying signature dishes from Ukraine, Thailand, Philippines, and many more! I got to learn many delicious recipes through these cooking sessions, and nothing bonds friends together like a hearty meal and an unending flow of good conversations!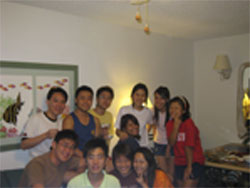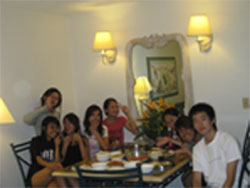 Precious lessons learnt on social relations
Things got along pretty well in the U.S., and I did not have any trouble adapting to the American culture as I had much fun enjoying these experiences with my four good friends. Unfortunately, having lived and seen one another almost everyday for the first month, friction occurred among the five of us and conflicts and unhappiness began to arise. There was a period of time when my friends seemed unhappy about my behavior and that led to a few "intervention sessions" where they tried to tell me what they were discontent with. It was a very trying time for me because I was one that avoided arguments and I did not know how to handle such conflicts. Thankfully, through a series of "open talks", the situation became much better. This incident taught me a great deal about people relations, and how everyone has a different perspective towards the same issue, but with acceptance and compromise, one can live harmoniously with others. I also learnt not to be too quick to judge as people can surprise you. There is always another better side to the person that I may not know of, yet. Most importantly, I learnt not to focus on one's weaknesses, but rather their strengths, as everyone is flawed and so am I.
Working in the States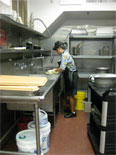 Apart from the exciting social life I enjoyed from having many international friends, I also enjoyed my work life in the U.S. I worked at Seaworld in Orlando, Florida in the Culinary Operations department. I was in food service in an al fresco dining restaurant called Smoky's Creek and words can not express how much I enjoyed working there. I woke up every morning excited to go to work because it was so fun meeting and serving people from all over the world (since Orlando is more of a tourist attraction), and it helped that I worked with really nice people too. I was blessed with a very helpful supervisor who understood that I need to earn more money for travelling, so she'd try to get extra hours for me to, as well as colleagues who were amiable and concerned for me by asking me how I was doing everyday. It was amazing how different workers from all over the globe can come together to work in the same environment. I went to the States with the fear that there would be discrimination, but all my fears were unfounded as there was not a tinge of that having worked with people from Puerto Rico, New York, Delaware, Virgin Islands, Louisiana, Thailand, Philippines, Taiwan, and many more.


There was this colleague I had who loves singing and I always ask him to sing for me and he would gladly do. I had lunch with him too and he shared his life with me and I was glad to lend a listening ear to him. I was thankful for those times that I could lend thatear. Also, towards the last few days of my work, Iwas pleasantly surprised that a minor working there actually bought a farewell giftfor me! Not forgetting another colleague who said he would never forget me because I was like a pocket of sunshine, always smiling everyday. I was glad that it was a two-way thing that I was able to bring joy to the people there and not just go there to receive and learn from them.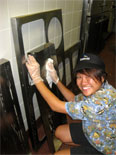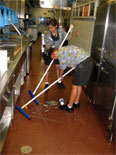 From working the food line, I gradually rose the ranks to become a cashier at Smoky's. Being a cashier allowed me to interact and strike up conversations with the customers as I rung up the food items on their trays. One of the things I always ask them was whether they have caught the Shamu Show and they said it was the highlight of their trip to Seaworld! They would also be surprised that a Singaporean would be so far away from home taking up a summer job in Seaworld
My entry into adulthood – the 21st Birthday Party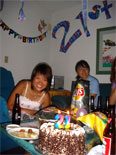 Having gotten to celebrate my 21st birthday in the U.S. was a once in a lifetime affair that I will never forget. I could not wish for a better celebration as all my international friends threw me a big bash by decorating my room with colorful streamers and balloons that I could not recognize my room anymore, spent six hours to cook up a scrumptious feast and bought many lovely presents for me! Everything was prepared nicely as they waited for me to come home from work. It was such a pleasant surprise as I could never imagine that friends whom I have only known for a few months would be so sweet to go to such an extent for me, but they did and I was truly touched.
Travel adventures during the summer with friends


There is so much to see and do in the U.S. and every experience was unforgettable. In the mere three months I was there, my friends and I would take many shorts trips during our scheduled off-days and go on road trips. We went to places like Daytona Beach where we got to catch the NASA space shuttle launch

from the distance, and hiking in the Wekiwa Springs, star gazing when the night fell, as well as to various theme parks such as; Universal Studios and Disneyland. We also had numerous shopping trips to the nearby Outlet malls or our favorite shopping spot – Florida Mall, where we spent many delightful afternoons shopping to our heart's content. I will never forget all those fun times together as long as my memory serves me, and should my memory fail me someday, the photos that we took together would allow me to keep those beautiful memories alive.
Many 'firsts' in the U.S.
Most of the things that I did during WAT were the first for me, such as finally witnessing how wild American parties can get. I also had the chance to attend a Mexican party and I learnt that Mexicans were very patriotic. They would hang their national flag and sing national songs as they partied. One of the 'first experiences' I would never forget was getting the rare opportunity to swim with my favorite sea animal – the dolphin! I got to swim up close and even kiss the dolphin. It was a feeling of pure exhilaration as I got to touch a dolphin for the first time. Another new underwater experience was snorkeling with the sharks in the Bahamas, as well as swimming with stingrays.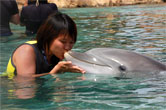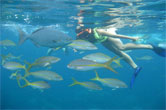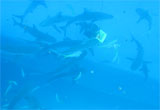 The overall experience
Although I only went to San Francisco and the Bahamas for the after travel part of the program, I was already very much overwhelmed by everything that I experienced throughout the whole WAT program. Travelling enabled me to see God's creation and open my eyes to embrace nature and the creatures that live in it, be it animals or us, human beings.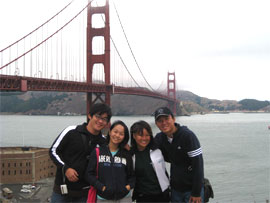 The inter-dependence on one another as we live on this Earth together became such a reality to me. I learnt to live life to the fullest since life is short and WAT has definitely opened my eyes to see the things I do not usually see and opened my mind to embrace the different cultures of the various countries. This whole WAT experience is exactly how Disneyland has coined itself to be, 'where dreams come true'. In fact, it was an experience that was way beyond my dreams, and definitely the most exciting summer I've ever had.
When I came back from WAT, I reflected upon this whole experience and came to see how each and every person is unique in their own ways, just like how every piece of snowflake that falls from the sky is different from one another, and how we learn to live and compromise with one another amongst all these differences makes this world a much more interesting place to be in. Imagine if everyone has similar personalities and attitudes, then this world would be a very boring place to be in.
I would definitely recommend WAT to anybody because it is an experience that one could get nowhere else – the chance to work and live with different people from different countries. Just by taking a holiday to the States would not have been as fulfilling as this as the numerous learning points to take home through WAT would probably exceed the luggage weight limit if all the points could be weighed tangibly.