I want to find some words to summarize Work and Travel but I find the magic of this program is just beyond my description. At first I thought it would be fun to see US and earn some pocket money. Later I found it was more than an experience of a lifetime, but an opportunity for us to learn and discover more about ourselves and the world around us.
---

Work
I worked as a server assistant in the Old Faithful Inn Dining Room. My main duties were to pour water, wipe the tables and set the utensils. Soon I got bored by all the repetitive work, but I decided to make these routine interesting for the guests as well as myself. Before I poured water, I would welcome guests with warm smile, "Welcome to Old Faithful Inn Dining Room. How are you doing today?" Guests would happily respond, "Great! We just saw the eruption of the old faithful geyser! "
In order to make the interaction more enjoyable and even knowledgeable, I often walked around the geyser basin and read up on geyser stories. Soon I have mastered some interesting stories to share with guests. One popular story would be "Have you noticed the smooth surface of castle geyser? In 1960s, guests living in Old Faithful were always waked up by some knocking sound at night. It turned out to be someone knocking off the small rocks of castle geyser and took home as souvenirs." Guests would always be delighted by such story treat.
Soon my supervisor told me she needed someone as a host and she thought I was the suitable option, because I am vocal and friendly. I asked her, "How do you know?" My supervisor smiled and said: "Because I walk around and observe. And I also received good comment cards about you."
Thus I happily took off a bit dirty apron and welcomed guests in the nice orange uniform at front desk. I helped guests make dining arrangements and had more time to interact with them. The pay didn't differ much but I no longer had to carry dirty dishes to the kitchen.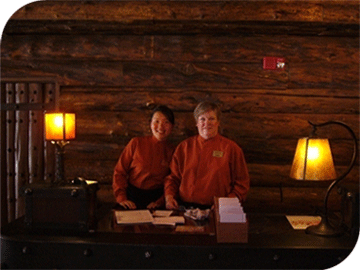 I learnt that we may not like the job we chose at first, but as long as we put our sincerity and enthusiasm into what we do, we can make a difference. There will be great opportunities knocking at our door and appreciation from others. Once I received one Yellowstone hoodie from a guest. He also wrote me a message, "It was great talking to me. Please accept this as a gift from my country. Enjoy your stay in US."
One of the challenges I always faced was to answer difficult questions about China posted by some guests. I have met someone asked me about the Tibet independence. Sometimes I felt upset and even angry. But I learnt to read more about such issue in my spare time, thus I was able to explain our ethnic policy and share my views as an ordinary Chinese. In some sense, Work and Travel allowed me to become a little ambassador for my country and I learn to control my emotions and respond to some sensitive questions in a proper manner.
Play
Besides work, I would say the Yellowstone employee recreation office is awesome. They offer various activities like rafting, hiking, horse riding and kayaking at very low prices (Many are free).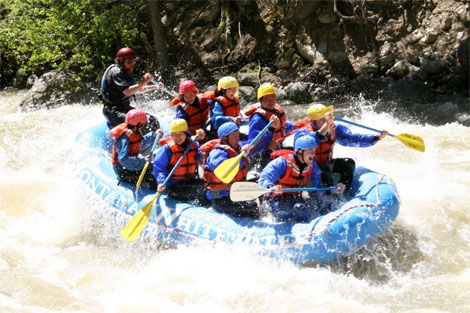 I tried the white water rafting. It was so exciting to brave winds and waves. The waves bumped into my face, cold but very refreshing!
I was also able to embrace the Native American culture by joining the Pow Wow trip organized by the recreation office.

Indian girls at the "Pow Wow" traditional dancing competition I think the one in sunglass is quite modern.
It was a sunny day, I felt so novel to watch the Indians, in all kinds of colorful costumes, singing and dancing under the blue sky.
I also joined the Yellowstone hiking club. According to my record, in my 1.5 month in Yellowstone, I have hiked 65 miles! This hiking experience enabled me to appreciate the natural beauty of the park. I marveled at the geysers, hot springs, waterfalls, meadows and mountains.

Friends
I was happy to find some valuable friends who I will cherish long after this program. And I learnt that to be warmhearted and I can make friends wherever I go.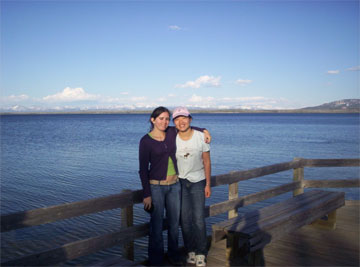 That day, they planned to walk around the geyser basin but didn't not familiar with the area. I voluntarily led them around and we talked about everything along the way. After this walking, we frankly shared our happiness, sorrows and homesickness together.
On the day I left, they helped me carry the heavy luggage and gave me a cute elk lollipop as a farewell gift. I plan to visit them in Hong Kong this winter holiday.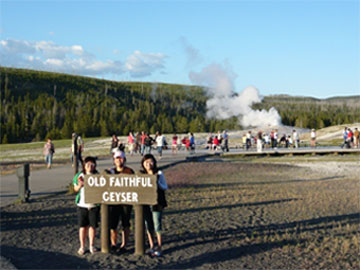 I got to know Carolina, a girl from Ecuador in the dining room. Sometimes after I finished my duties, I helped her clean the tables. We gradually became closer and went on hiking together. I remembered we shared one piece of pizza at a cold night and we hitch hiked to Yellowstone Lake after we finished work. We still keep in touch and I hope one day I can visit her in Ecuador.

Travel
I travelled to Salt Lake, San Francisco, Los Angles, Philadelphia, New York, Boston and Niagara Falls in 22 days. And I made this possible on 1800 US dollar budget. I think I became financially wiser through this program. I learnt to search for the best flight deal. For example, the airfare from San Francisco to New York is around $250. However, the flight from San Jose( the capital of Silicon Valley which is only 1 hour away from San Francisco by train) to Philadelphia only costs $119.5. Then I bought the $11.5 bus ticket from Philadelphia to New York. Thus I not only visited one more city but also saved more than half of the money. I also learnt to get in touch with people along the journey. Before I left Yellowstone, I contacted people I know at each place and I really felt lucky that I know these warm and friendly people.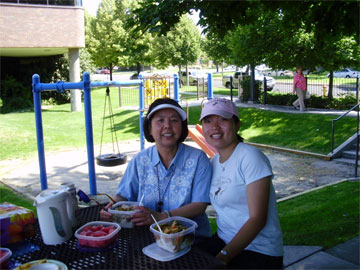 I knew Aunt Jin in Yellowstone when I worked at front desk. She invited me to come to her home when she knew I was going to Salt Lake. I was moved that she picked me up at the greyhound station at 5am and taught me how to go around the city. She also prepared a hearty dinner that night and I felt like I haven't had such delicious Chinese meal since I study overseas. I gave Aunt Jin two herbal balms I bought in Yellowstone as my gift and invited her to visit my home the next time she goes back China.

In San Francisco, I got in touch with Tamara, who used to be an exchange student in my university. She invited me to join her birthday party and we sang Karaoke in Japan town with her friends.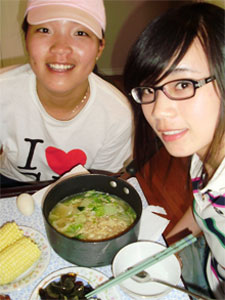 I lived in my high school friend's house when I was in San Francisco. On 4th July, we went to Fisherman's wharf. We ate green tea ice cream, enjoyed one live concert, and tried the famous San Francisco Boudin and crabs. We also clustered around in the cold night and waited to see the Independence Day fireworks but it turned out to be so foggy that we only heard the sound of fireworks. So we laughed about this foggy city in the end.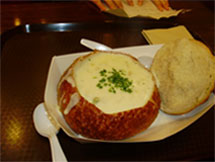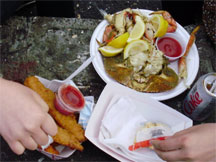 I also met a sweet Taiwanese girl and we signed up for a 4 day Los Angles tour together. We enjoyed our company so much and took numerous pictures in LA. She said I helped her take more than 600 pictures in four days. We left each other contact information and she invited me to visit Taiwan someday. It was fun to travel alone and make interesting friends along the way.
I decided not to put our picture here, since she is such a slim girl that I always appear to be especially huge when we took pictures together. haha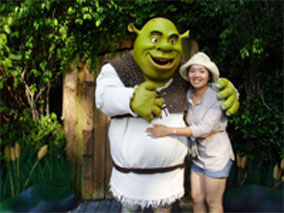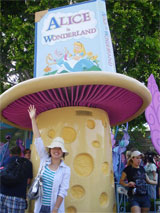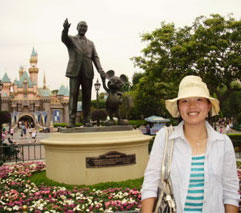 Universal Studio and Disneyland
At first I heisted to travel alone, but it turned out to be that I had more opportunities to meet new friends along the way. I explored Philadelphia with a Brazilian girl I met in hostel and I discovered New York with two Singaporean students I met on bus. I have become more confident and outgoing through this joinery. And it was really great to see all the world famous landmarks with my own eyes and take cool pictures!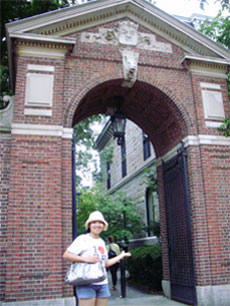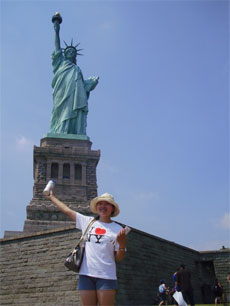 Overall, I would definitely recommend Work& Travel to my friends. It is an opportunity for us to learn and discover more about ourselves and the world around us. I cannot share the wonders of work and travel in such a short article. But I can feel the changes happening within myself through participating this program. I feel it is like an adult ceremony, a ceremony you can never miss in your college years!