I can still remember the wanderlust that stirred in my soul when I first saw the email by Speedwing regarding the 'USA Work and Travel Program'. I knew I had to apply for this program; this was my chance to explore the world at an affordable price through a reputable and experienced company. However, this did not make my decision to apply for the program an easy one. As a university student, there were other commitments and graduation requirements I had to fulfil. Furthermore, all my friends who were initially interested in the program could not commit to the program and eventually backed out. I was stuck in a dilemma between forgoing an internship in Singapore and fulfilling my desire to experience America. I vividly remember my doubts and fears about travelling alone for an extended period of time and the many 'what ifs' running through my head. While I was making my decision, I distinctly remember seeing this excerpt of a quote by Dr Martin Luther King, Jr. which said "You don't have to see the whole staircase, just take the first step". As cliche as that may sound, that was the turning point in my decision-making process. While I did acknowledge my doubts and my fears, I decided to take a leap of faith and sign up for the program.
Before long, time had passed and the administrative procedures and paperwork were done. School had ended and so had the final examinations. I was going to America!
---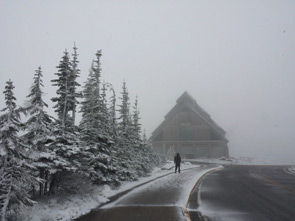 My adventure at Mt. Rainier National Park was an experience of many firsts. It was the first time I was in America, the first time I saw snow, the first time I was on a mountain and the list just went on. On the way to Mt Rainier National Park, we passed by flushing green meadows, expansive lakes which glittered under the sunlight and endless rows of trees which painted such a perfect picture for my eyes. Born and raised in Singapore, a cosmopolitan city and a concrete jungle, these views were a stark contrast to what I was used to seeing. The beauty of nature I saw around me was unbelievable
We finally arrived at the location which I was going to call home for the next two months – Paradise Inn. Even its name sounded surreal. The view from my window certainly looked like paradise to me. The entire landscape was still covered with snow, even with summer slowly creeping in. Rivers and lakes were frozen while trees and plants lay still. I loved how Mt. Rainier exuded a sense of serenity and peacefulness that I had never experienced before. It was perfect.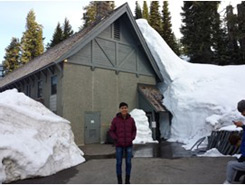 I was assigned to the housekeeping department in Paradise Inn together with seven Thais, two Singaporeans, one American and one Columbian. I received this assignment with mixed feelings. On one hand, I was excited to be working with people from such diverse nationalities and cultures. While on the other hand, housekeeping did not sound appealing to me. Coming from a family who has hired a domestic helper since I was born, I was used to getting my room cleaned and not the other way around. However, I decided to take up the job with an open mind as I was there to challenge myself and expand my life experiences, and what better way than to start with the basics – learning how to keep a place clean.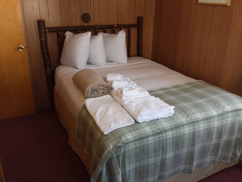 The first week was spent on training and prepping the inn for its opening. We learnt the roles and responsibilities of a housekeeper. We were taught how to make beds fit for kings and how to properly clean and disinfect both the rooms and bathrooms in a quick and efficient way. After making countless number of beds, scrubbing too many bathrooms and stocking up on all the necessary items, our team were ready for the upcoming season.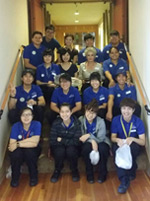 The initial trickle of guests when the inn first opened soon turned into a never-ending stream. Within two weeks, the number of rooms we were cleaning jumped from a maximum of eight to a minimum of 16 rooms a day, with each room requiring at least 30 minutes of cleaning, and all to be done in our eight hour shift. Although we were swamped, work was made so much more bearable with the interesting interactions we had with guests from all walks of life, the words of encouragement and jokes we shared among the housekeeping team while working, and of course the tips we received from guests. When my first pay check arrived, the feeling was so satisfying because it made all my hard work worthwhile. However, it was not all about the money itself, rather it was me knowing that I was capable of being financially independent and reaping the rewards of my hard work.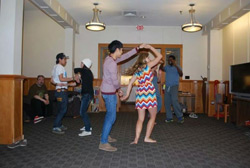 With its rolling hills and deep valleys, and lakes and waterfalls, Mt Rainier National Park was a perfect place to experience the splendour of Nature. During our free time at Mt Rainier, we went hiking in the wilderness, snow-shoeing up the snow-capped mountain and camping amongst the endless tall trees that surrounded us. There were many company-organised trips down to nearby cities for some shopping and to experience local fairs and carnivals. Employee-organised activities were common too. There were movie nights, soccer matches, poker tournaments and table tennis competitions. I learnt how to swing dance – an activity I never thought I would learn in my lifetime. Several employees and I even found the time to take road trips to the nearby cities of Portland, Oregon and Vancouver, Canada.?
Many things really struck me while I was working and staying at Mt Rainier, one of them being how proactive my colleagues were in searching for new experiences. During my first year in SMU I was afraid to try new things for fear of being inadequate or embarrassing myself. I would rather remain in my comfort zone rather than explore the unknown. On the other hand, my colleagues from other walks of life did not limit themselves. Neither did they glue themselves to their electronic devices nor did they shy away from experiencing new things. Instead, they actively found new activities to do such as hiking, star-gazing and camping. They were also willing to try new activities such as swing dancing, or going out to explore the mountain. This really inspired me to make the effort to be more proactive in finding my own experiences.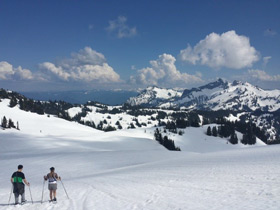 My colleagues were open to new cultures, perspectives and people. I was surprised by their warmth and friendliness when I first met them. None of them seemed judgemental or put off by the new arrivals. They were genuinely sincere about getting to know me. Throughout my stay, I had wonderful conversations with them and we shared about our very different cultures and countries. Many stories were exchanged – I would tell them about our National Day Parades and they would tell me about their Fourth of July celebrations. We would compare car prices in our countries and I had to explain to them the exorbitant costs of our cars due to the Certificate of Entitlement (COE) system.? I loved that we could just sit down out on the balcony in our deck chairs and literally talk about anything under the sun. I loved how such simple conversations could improve my mood. Those conversations and interactions with people from other countries allowed me learn more about the world and change the way I view people. I was gaining new perspectives and insightful knowledge about other countries and cultures.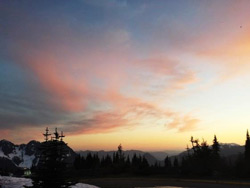 My definition and expectation of happiness changed too. I did not need my mobile phone or my laptop and video games to be happy. I was happy just enjoying a beautiful sunset or interacting with people. The weekly soccer games we had played were on an uneven road with plastic bins as goalposts. The setup was simple and minimal but those times were probably some of my happiest moments in Mt Rainier. My expectations for happiness changed. This experience has humbled me and allowed me to be more appreciative of everything big and small around me, which has in turn made me into a happier person.
Saying goodbye after two months was definitely bittersweet. Bidding farewell to my colleagues-turned-friends was difficult because I knew that I would probably never see most of them again, but I was also excited to travel and explore more of America. Although my time at Mt Rainier had ended, I will always remember dearly the wonderful interactions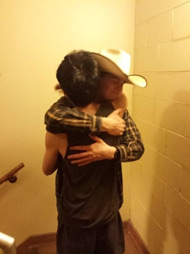 and relationships I had built in the two months. I will remember the lessons and skills I have acquired. I will remember the fun and memorable events that had taken place. Most of all I will remember the mountain as the place where I "found" a new and inspired sense of self.
After my stint at Mt Rainer National Park, I traversed America, beginning from the Space Needle in Seattle to the Hollywood Walk of Fame in Los Angeles to the 'Windy City' Chicago and finally to 'The City That Never Sleeps' New York City. I had an amazing time experiencing each city's unique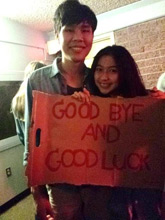 character and trying new things such as skydiving.
Finally after a month of travelling, as with all good things, the travelling had to come to an end. My time in America was up, but armed with new perspectives and experiences, I was excited to see what life had in stall for me when I returned to Singapore.
I highly recommend everyone to take this program up. You will learn how to live independently. Learning how to wash your own clothes, making your bed and cleaning your own place as well as managing your finances are some of the skills school will not provide you with. You will get to experience different cultures and gain new perspectives, which textbooks can only hope to teach. For those of you having second thoughts about participating in this program, my advice for you will be what helped me make up my mind: "You don't have to see the whole staircase, just take the first step".