No words can really describe my entire experience on the "Work and Travel USA" Program. I was introduced by friends to participate in this "Work and Travel USA" program, then I thought to myself instead of me slacking for three and a half months during summer doing nothing. I might as well grab the opportunity to experience the American culture and to travel the USA.
---
This is my first time stepping out of my home country, to work and live in another land. "Work and Travel USA" program differs greatly from studying abroad, as a studying environment is often a safe and secured environment, whereas working in a unfamiliar surrounding is a huge leap into the "real" world. I have to be more independent in all aspects; to do my own laundry, earn my own income, manage my own expenditure, to deal with the cultural differences and socially interact with different people. This is indeed a great experience that I will treasure all my life.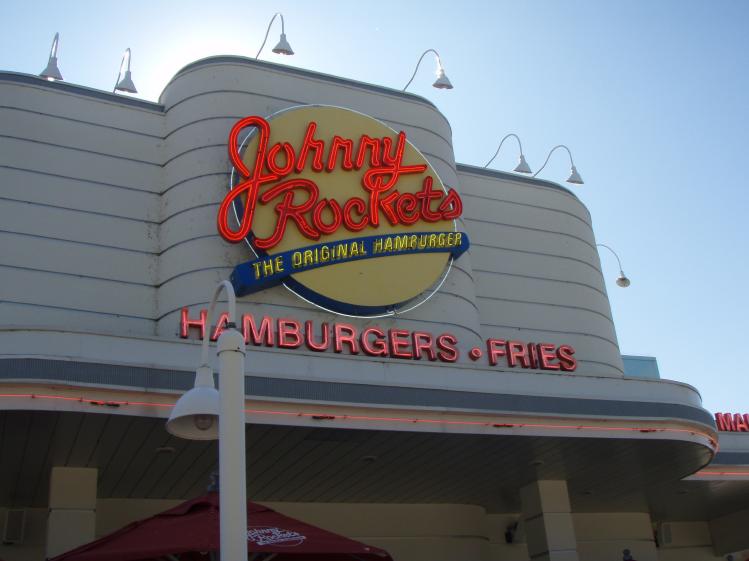 Upon arriving in Sandusky, I and my friends were whisked into the "Best Amusement Park in the World", Cedar Point Amusement Park. After all our job orientation and on-the-job training, I was assigned to work in Donut Time and was given training on how to brew Lattes, Cappuccinos and Espressos. We served Starbucks Coffee and the famous Glazing Donuts in Donut Time. I worked hard and performed well on my job,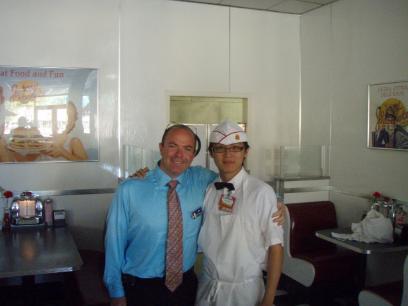 however I didn't have enough working hours for my job. After working a week in Donut Time, I approached my General Manager, Jim regarding the matter. Jim understood my situation and asked me whether I was willing to transfer to Johnny Rockets and be a cook in the Restaurant. I accepted the offer and was immediately transferred to Johnny Rockets and was given a pay raise to 7.25 USD per hour.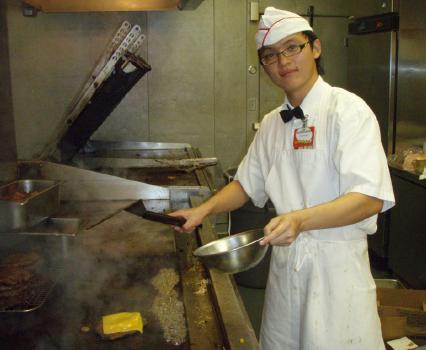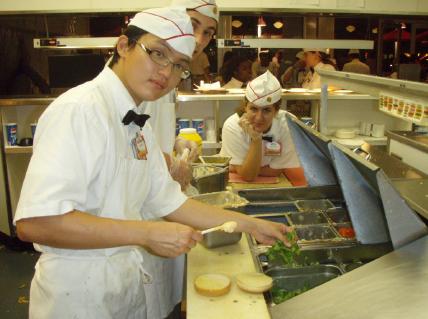 Working in Johnny Rockets is fun however tough at the same time. I started working in the Johnny Rocket's kitchen on the "wheel". It is the most difficult position in the whole entire kitchen and I managed to ace it. The "wheel" is the job where the condiments and vegetables of each burger are put on the burger. Working in the most prominent restaurant in a "World-Class Amusement Park", stupendous customer service of the highest level is essential. This makes my position on the "wheel" all the more stressful. Eventually I learned to grill, to make sandwiches and salads, to handle the fryer, and to clamp the burgers. Before this I didn't even know how to cook a decent meal, but now I can proudly say that I mastered the "art of grilling".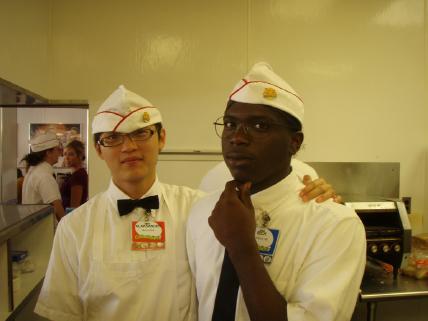 I get to know most of America from my colleagues in Johnny Rockets. I learn about their lifestyle, culture, sports, language and country. Americans love their sports very much ranging from baseball, American football, ice hockey and basketball. They are so passionate of their home team that they talk about it all the time during the season. Apart from that, I also get to know Europeans and South Americans from my work place, people from Bulgaria, Poland, Colombia and Ecuador. I get to know about their culture and share their passion of travelling in the US.
Social & Fun
Cedar Point organizes a variety of Employee's activities that enables me to mingle with peoples from various countries. Starlight movie nights, salsa dance nights, miniature golf nights, soak city party, pool tournaments, ping pong tournaments and the highlight of them all Cedar Point Big Bash Party. These activities are usually held late at night, so that all the employees get the chance to join in the fun. Cedar Point Big Bash Party is the party not to be missed as we employers were treated like guest of honour for the night. I got the chance to dunk my manger into the pool and enjoy all the free food that we have to pay for on usual days
I also attended a church weekly every Sunday in the US for worship. The church I attended was Calvary Baptist Church. I get a taste of their amiability and sincere hospitality. We were often picked up at the rendezvous point by Jacob who volunteered to fetch us weekly. I and Clara were also often invited to join various families for dinner on Sunday evenings but it was a pity we could not find an opportunity to join them for dinner amidst our short stay in the US. Nevertheless, I was deeply touched by their sincerity and love towards us.
Getting to sit all the rides in Cedar Point for free is probably the best bonus any job could offer you. As an employee of Cedar Point, I get to ride the best roller coasters in the world for free. The popular and most intense rides often requires up to 3 hours queue time during park time. However every Monday night, after the park closes some rides will operate exclusively for employees to enjoy the ride without the long queues.
Top Thrill Dragster accelerates its riders at 120 miles per hour to the height of 420 ft and back down to ground in 17 seconds. Maverick the newest and most popular of all the rides drops its riders at 95 degrees (more than straight down) at its first drop. These rides are exciting, thrilling and definitely not for the faint hearted.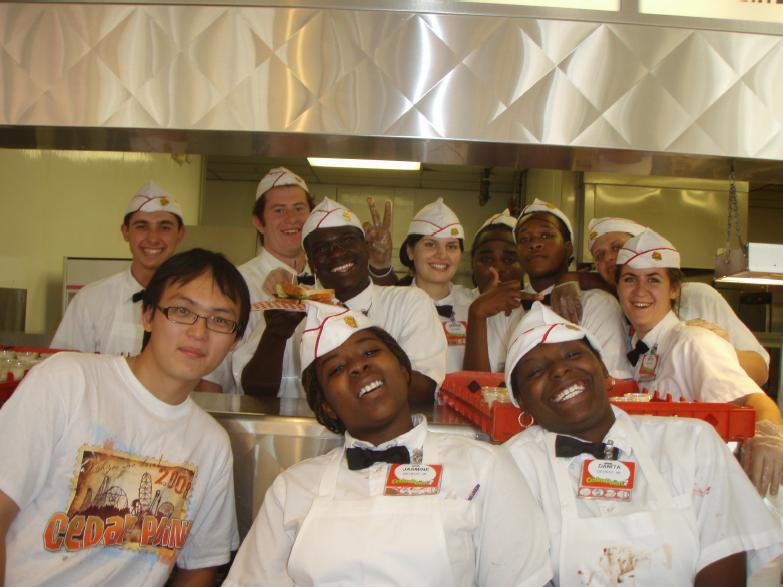 All good things must come to an end. As much fun as I had with my friends and colleagues in Johnny Rockets and Cedar Point, it wastime for me to leave. As I came back to the Restaurant to bid farewell to my colleague, my supervisor started clapping his hands and all my colleagues followedsuit and even the guesst applauded and cheer. I was touched even though I was the only Asian working in Johnny Rockets for that season and yet I was still so welcomedamong them. I struggled to fight back my tears as I stepped out of Johnny Rockets with a heavy heart. This place will always be a second home to me and I will always be part of the "Rocketiers" family.
Travel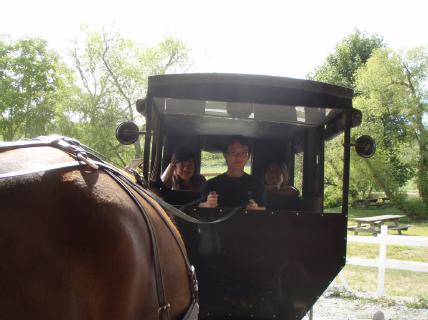 I did a whole lot of travelling. From major cities like New York, Chicago, Los Angeles and San Francisco to country places like Amish Community in Holmes County, Solvang and Yosemite National Park. In my duration of work, I was given time off to travel to Chicago, Detroit, Niagara Falls, Put-in-bay and Kelley island and to Holmes County Heart of the Amish Country.
Amish Country is probably the most unique of them all. Amish People are Anabaptist Christians who refuses to use technology in their daily life. They would rather ride a buggy than drive a car, use lamp oils instead of electrical lamp. Computer and televisions are inexistent in their routine life. They deem portraying one's own image as evil or self pride (No photography). This is all due to their pious Christian belief in interpreting the bible literally.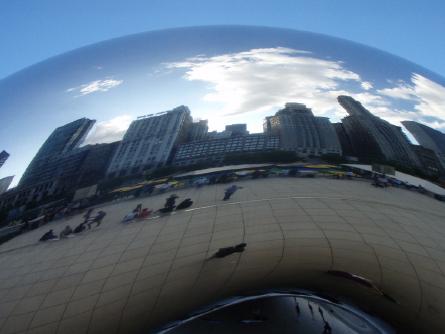 In Chicago the city of the wind, I get to see the amazing architecture like the Buckingham Fountain and impressive public arts like the Cloud Gate. Once the tallest building in the world "Sears Towers" dwarfs other buildings around it in the magnificent skyline. I witnessed a free live classical philharmonic in Millennium Park and visited one of the most prominent art museums in the world, Chicago Institute of Arts.
In Detroit, I and my friends went to the "American Idol Tour Concert". I always watched the programme "American Idol" on television and now I finally got a chance to view the concert live in the Joe Louis Arena in Detroit. We also visited the General Motors headquarters in the GM Renaissance Building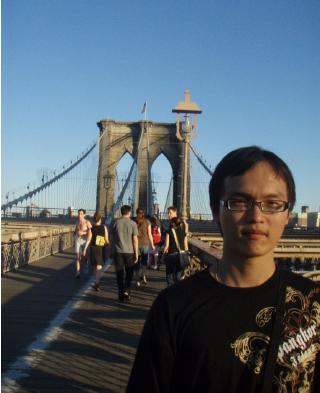 Niagara Falls, one of the seven wonders of the modern world has always been the place I want to see with my own eyes. The torrential fall was certainly magnificent. I get to feel the Niagara's splash in the Cave of the winds and see the Horseshoe Falls on the Maiden of the Mist.
When my contract with Cedar Point ended I embarked on a three week travel around the US. I and Jacob travelled to Washington D.C. on a scenic train ride through Pennsylvania. In D.C., we visited the Lincoln Memorial, World War II Memorial, Korean War Memorial, Thomas Jefferson Memorial, White House, Washington Monument, The Capitol, Air and Space Museum, Navy Museum and the Spy Museum. They often say "Nothing is free" but I have to say everything is free in D.C. The museums are free even visiting the Capitol and the monuments are without charge. Witnessing the Governmental Capital of the "Most Powerful Nation" in the World is truly an eye-opener for me.
Big Apple New York, the financial centre of the world is probably the most popular tourist destination in US. As they say "You've not seen US, if you have not been to New York." New York City is a city with a great contrast, from the historic Brooklyn Bridge to the morbid Ground Zero (World Trade Centre). I visited the most iconic statue in the US, the Statue of Liberty on Liberty Island. I went up the Empire State Building where King Kong mounted and browse through the art pieces in Metropolitan Museum of Arts. The highlight of my New York trip is the Broadway Show, Chicago. I had gotten my tickets in the TKTS booth for half the price which cost 60 USD, even though it costs a bomb it was well worth every single cent.
Flying over to the West Coast, I enter a whole new world. I and my friend joined a tour that takes us from the breath-taking picturesque Grand Canyon in Arizona to Golden Gate Bridge in San Francisco. I was deeply astonished by the size and magnitude of Grand Canyon. This shows that you can't see everything just on TV, you sometimes need to go there and see for yourself
General Assembly Room
Surrounded by the glimmer of the neon lights in Las Vegas manifested a glamorous feel within me. The Sin City where all the seven sins flourish is a great reminder that I should not dwell into sinful indulgences lest that I might fall and live an immoral life. However the live shows are of world- class and should not be missed.
Universal Studio in Los Angeles gave me a glimpse of Hollywood action, whereas Disneyland brought me back to my childhood days.
US have quite a number of national parks for the nature lovers. As a nature lover myself, I wouldn't want to miss the opportunity to travel to Yosemite National Park known as the most beautiful National Park in the US.